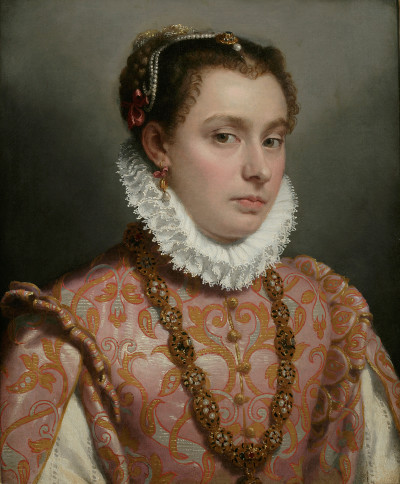 Yesterday I nipped up to the Royal Academy to take a look at the exhibition of paintings by Giovanni Battista Moroni - the first large-scale survey of his works to be staged outside Italy. I only knew Moroni from the handful of his intriguing portraits in the National Gallery - including the famous
Portrait of a Tailor
- and was eager to see more and find out more.
It's a pleasingly small-scale exhibition (45 pictures in all), and there are no blockbuster-scale crowds - a 16th-century Bergamese painter is unlikely to be a huge draw these days (unless you can find a link to, say, Manet, which would be just about possible in Moroni's case - Manet by way of Ingres). The early rooms contain paintings that need detain no one long, serving chiefly to demonstrate that as a religious painter Moroni was no great shakes, the sole interest being in glimpses of his abilities as a portraitist (often of the donor). There's a pretty awful Trinity by Moroni's fellow Bergamese Lorenzo Lotto, accompanied by an even worse Trinity by Moroni, and several really pretty ordinary religious set pieces. But then - then the portraits begin, and everything changes...
Some of the early full-lengths and three-quarters are a little awkward, the head not quite sitting right on the body, but the skill with which those portrait heads are painted is phenomenal. These are 'living likenesses', painted with unblinking insight and engaging the viewer's attention instantly and unshakably. Moroni's sitters - minor aristocrats, professionals, public officials - look out at us askance, declaring 'Yes, here I am, This is me.' (The Portrait of a Young Lady, above, is an extreme example, in which the sitter seems almost to defy the artist - and us.) The compositions and settings are invariably very simple, the backgrounds always in subtly modulated greys, the light cool and lucid (a Lombard light) but the colours and textures richly coloured and freely rendered, in the Venetian style.
By the time of the later portraits, in which Moroni's mastery of every element is complete, most of his sitters are in plain black clothing, rather than the gorgeous vestments of a couple of decades earlier, and this only enhances the concentrated power of the portraiture - and heightens what touches of colour there are. One of the last pictures in the exhibition, Elderly Man Seated with a Book, has the quiet, clear-sighted pathos of a Rembrandt portrait. Talking of which, on Friday I'm off to see the Late Rembrandt exhibition at the National Gallery before it closes this weekend.
Moroni at the RA
continues till the 25th, and I'd urge you to catch it while it's there - chances are there won't be another Moroni exhibition in this country for many years.