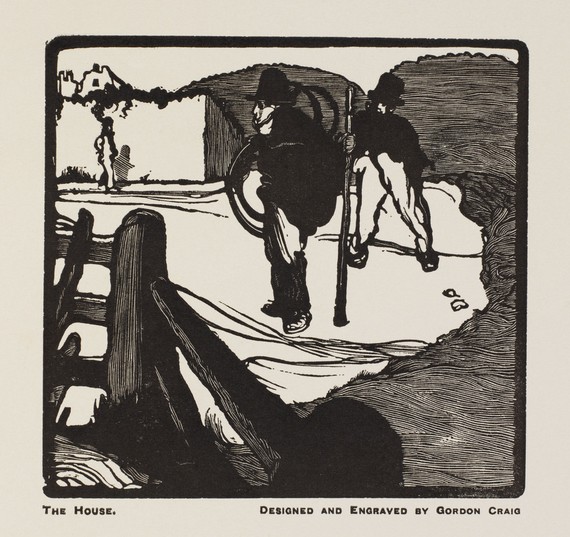 And now I'm back from a couple of days in my favourite corner of Derbyshire, where, as usual, I called in on my favourite bookshop (The Bookshop in Wirksworth) and, as ever, made a happy find. This was a King Penguin that I didn't even know existed - KP40: Edward Gordon Craig. A handsome production, like all the King Penguins, it was published in 1948, with a star-spangled cover adapted from a design by Craig, and fine plates taken from some of his huge output of woodcuts, drawings and stage designs.
Who was Edward Gordon Craig? He was the son of the great actress Ellen Terry and the equally great architect and designer E.W. Godwin (who got together while Ellen was still married to the painted G.F.Watts, 30 years her senior). Craig's own outline of his career - which runs around the borders of the frontispiece and title page of the King Penguin - gives some idea of the man and his career: 'Edward Gordon Craig practised several crafts. 1889 to 97 was actor. 1893 to 1926 was metteur-en-scene, i.e. produced plays and operas. Was designer of scenes and costumes. And was wood engraver. Composed some tunes. Wrote some books. Made some etchings 1906 to 12. Could not play golf. Played football. Could row. Not shoot. Could not cook. Could not bind a book. Nor understand business. Could do nothing with electric wires. Is not a printer.'
Amid all this, Craig also enjoyed a flourishing parallel career as a womaniser. In 1897 he left his wife and four children in Bedford Park, moving to Thames Ditton - and shortly after, with his current mistress, to the then picturesque village of Hackbridge, which adjoins the much-aforementioned Carshalton, my home patch. It's hard to believe that the house he lived in - now an unremarkable building, one among many, on the grey, traffic-heavy London Road - was once a charming cottage in a quiet and rather delightful location. Rose Cottage, as he called it, was also decorated by Craig in true avant-garde style, with laurel-green woodwork, painted black floorboards, and walls papered in brown wrapping paper below the dado and cream manilla above.
It was while living at Rose Cottage that Craig began working seriously at wood engraving - which he'd picked up from watching William Nicholson at work - and designing book plates. He launched a magazine, The Page, full of his own woodcuts and his own writings, often pseudonymous. It was well received, and, from first issue to last (in 1901), was published 'at the sign of the Rose' - though by 1899 Craig had moved on when his wife came to live uncomfortably close in Hackbridge.
It was also while living in Rose Cottage that Craig produced his first book, Gordon Craig's Book of Penny Toys - and, more importantly, became seriously interested in stage design. In this field, his ideas - bold, simple staging, with expressive use of light and colour changes rather than elaborate sets - were wholly inimical to the fussy, detailed style of the late Victorian English theatre. When Craig had the opportunity to work at the Lessing Theatre in Berlin, he took it and left England, never to return.
Edward Gordon Craig was a classic example of an artist so prodigiously talented in so many areas - and so ahead of his time - that he never achieved the fame he should have had, certainly in his own country. In particular, his delayed impact on stage design - and indeed film design - was revolutionary. But posterity favours the specialist and the representative figure over those whose talents overflow their bounds and their time - and so today most of us have to ask 'Who was Edward Gordon Craig?'