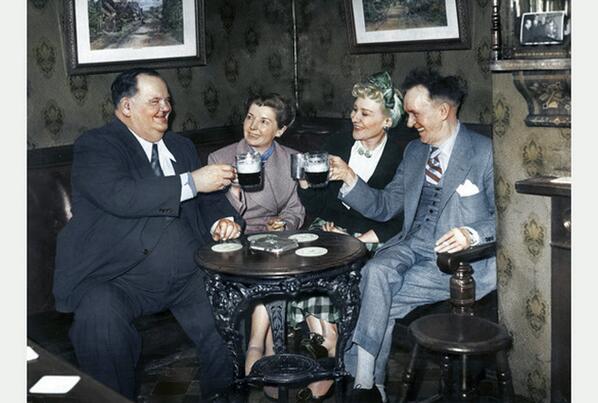 Little did I realise when I was visiting Bottesford that I was walking in the asymmetric footsteps of Laurel and Hardy.
Stan's sister Olga (Healey) was the popular landlady of the Bull Inn there, and the comedy duo stayed at The Bull when they were appearing at the Nottingham Empire in 1952. I learned this from a plaque outside the inn, and naturally my curiosity was piqued. Although the place seemed strangely quiet for a Saturday lunchtime, it was apparently open, so we stepped inside to take a look.
Suffice to say, we did not linger long. It must have been a much cheerier place in the days when Stan and Ollie visited - that's them above, with their wives in the snug of The Bull, 'in happier times', as they say in the papers.